The sofa is the centre of our living space. After a long day we find relaxation and recreation here. It reflects our personality more than any other furniture and its style defines our living space! All the more important is the selection of the sofa, that suits you, because every family and every home is different. Every upholstery furniture receives a first impression through its cover:
elegant,
modern,
extravagant, or even
cosy and natural.
Through distinctive natural characteristics of leather your sofa is one of a kind. Fabric and its individual structure gives it a touch of life. Our leather collection features many different types and colours, giving you 150 options to choose from. There is also a wide selection of fabrics to match the latest colour trends.
Here you can discover the complete upholstery collection from W.SCHILLG: including Longlife Xtra leather, our Rohleder fabric collection as well as all other high quality upholstery covers, incolours that are, of course, perfectly colour coordinated with the W.SCHILLIG-leather collection.
The illustrated colour samples are only an example. Colour deviation due to different types of material and individual settings of monitors may vary. Decorative, felled or double seams may appear different in fabric or leather versions. For manufacturing reasons, seams may be left out or replaced with simple seams (model-specific).
Fabric
V39 – Longlife fabric by W.SCHILLIG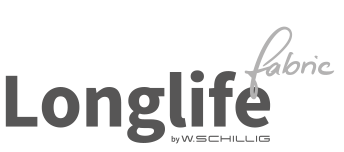 These materials are elegant chenille fabrics.
Product width:approx. 140 cm
Abrasion cycles: as per RAL-GZ 430/4 for working on upholstered furniture
Composition:
NS: 100 % polyester
GS: 100 % polyester
Scrub resistance: very good
Rub fastness (colour wear): very good
Light fastness: very good
Pilling behaviour: very good
Right reserved to make structural and colour changes!
You can find more information about the guarantee at www.longlifefabric.de
If you do not wish to take out any service warranty, you can also order the care sets at www.schillig-moebelpflege.de.