3D Configurator from W.SCHILLIG
Winner of the Audience Award »Innovator of the Year 2020«
To showcase and award exemplary examples of innovative strength and renewal in all entrepreneurial areas and company sizes is the approach of the Innovator of the Year, which is proclaimed annually by the Deutsche Wirtschaft (DDW).
This year's participants presented a spectrum showing the successful incorporation of innovation across all sectors of the economy: from high-tech development to practical innovation, at the global corporation as well as at the medium-sized company. With a record participation in the public vote, W.SCHILLIG was elected winner of the public award »Innovator of the Year 2020« by numerous entrepreneurs, business managers and business enthusiasts.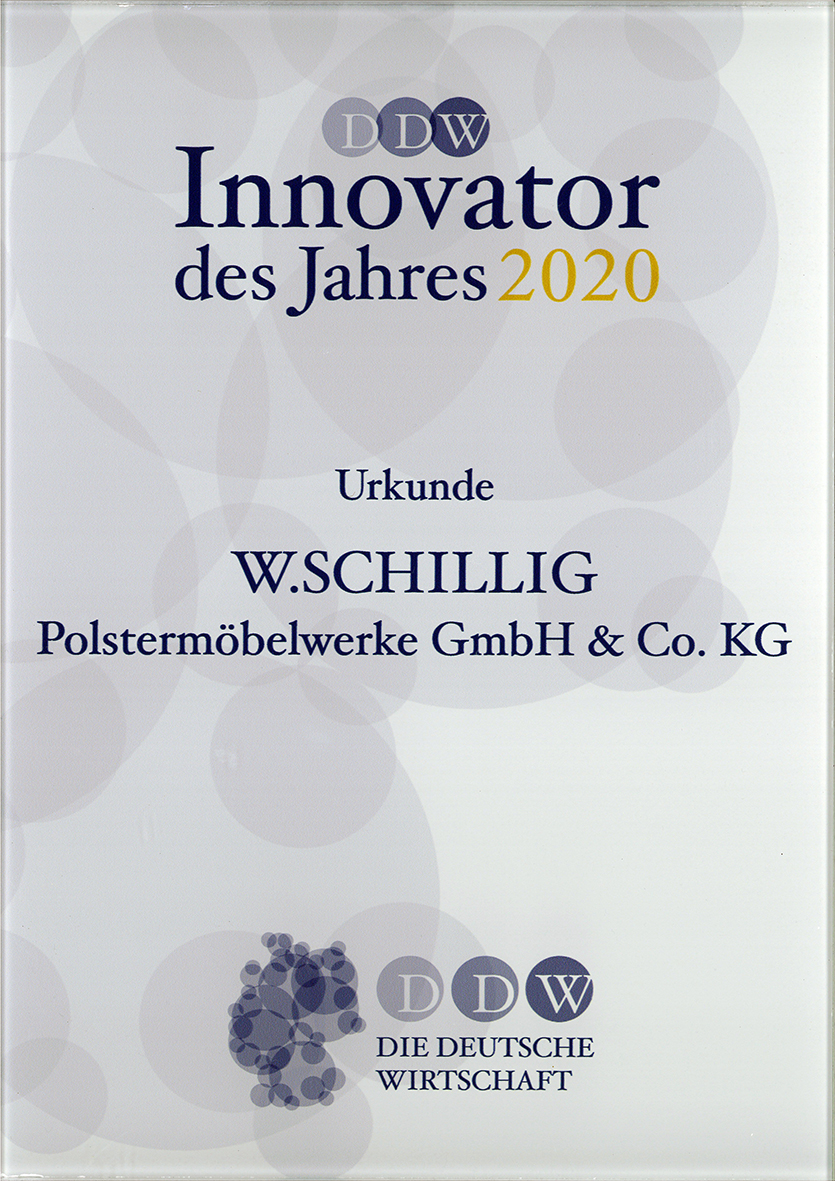 When the family business was founded in 1949 in Ebersdorf-Frohnlach in Upper Franconia, digitization was at most a topic for American science fiction authors. Today, digital solutions have arrived in almost every company. But how does an upholstered furniture manufacturer deal with this challenge? Stationary retail is and remains the most important and largest sales channel for consumers buying furniture, even in the digital age. However, analyses show that end consumers are becoming increasingly demanding in terms of their personal customer journey – they want to be embraced on a multi-channel basis. As a result, far more than half of those willing to buy already begin their »journey« on the internet.
»This is exactly where we started three years ago with our digital strategy. How can we, as a manufacturer and one of the few recognizable brands in the sofa business, work together with our retail partners to offer the perfect customer journey for the consumer?« explains Erik Stammberger, grandson of company founder Willi Schillig and current owner and CEO of the Schillig Group. The central question for the sofa buyer, »What does my dream sofa in my dream configuration in my dream color look like in my home?« can now be answered in full with the web-based 3D configurator. The end consumer can put together his or her individual dream sofa and have it immediately displayed in photo-realistic quality in his or her own home using the augmented reality function.
»We are extremely pleased that we were able to prevail against strong competition in the public voting. This is proof that we have succeeded in opening the doors to the digital world in an otherwise very analog furniture industry,« says a delighted Erik Stammberger. »Although we've only been 'live' with Generation 3 of the configurator on our website for three months, our current peak is just under 400 individually created configurations in just one day!«
The handling is intuitive, as you can see in the attached video. Try it out for yourself and let yourself be inspired!
>